SUBMERGED MIRROR LIKE WORLD

Lake Kaindy is high altitude lake 288 km from Almaty. Located in Kungel Alatau mountains at the height of 1800 meters above sea level. The lake is 400 meters long and 100 meters wide. Depth reaches 30 meters. Lake Kaindy was the result of an earthquake in 1911, after which a tectonic collapse blocked the path of Lake Kaindy. Natural platinum formed and water flooded the forest. The water temperature in the lake is +6 degrees, so the fir trees still stand in the middle of the lake. The water in the lake is crystal clear and changes color depending on the time of year.


ABOUT KAINDY LAKE

Lake Kaindy is a Kazakhstani miracle of nature, which attracts thousands of travelers from different countries every year. The lake is surrounded by the beautiful landscape. The snow-capped peaks of the Tien Shan, mountain gorges, tall and green fir trees give the lake a fabulous look. This is one of the places that look better live than in the picture.

To enjoy the beauty of the lake, you need to overcome 12 km of off-road in the mountains. The road is very picturesque and flies unnoticed for a passenger. Every second, a breathtaking view of the gorge and snow-capped peaks opens. The eagle flies to the right and after two meters a pheasant crosses the road. The range roving vehicle storms the river ford and scatters dirt in all directions. One road is worth visiting this area. The road lies through a coniferous forest from the parking to the lake. The air is so clean that you do not want to exhale it. On the way, you will get a bonus in the form of fresh berries, which you can always taste.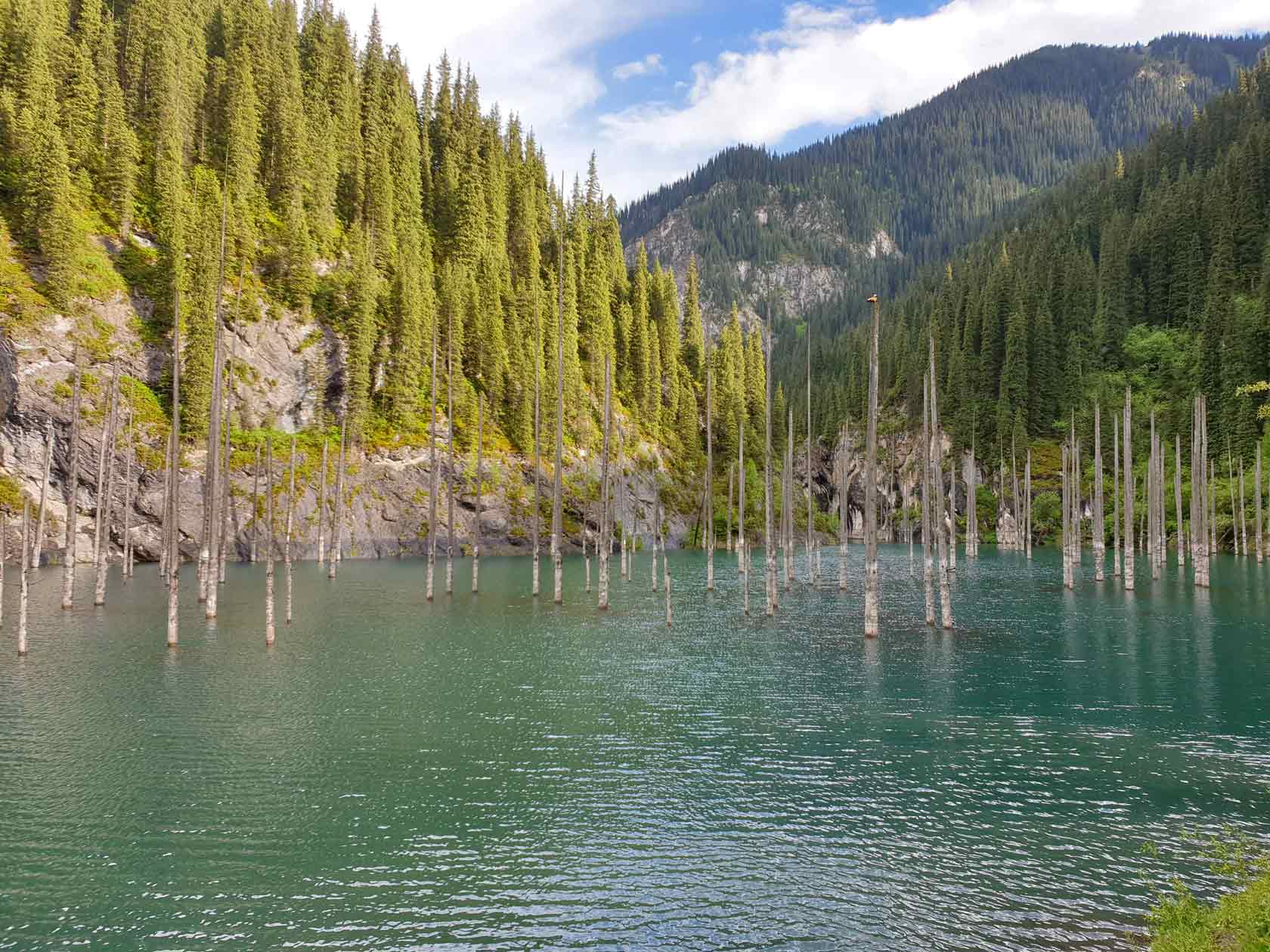 The water in Lake Kaindy is crystal clear, there is a lot of trout and if you have not taken water with, you can always get it in the river. Kaindy will delight you at any time of the year. The water changes color from green in spring to turquoise in summer and fall. In winter, the lake freezes and you can please yourself with ice skating. Looking at the lake from a height, it seems that the trees hovered in zero gravity upside down. In a word, this is a fairy tale that will remain in your memory for a long time.


Lake Kaindy is a visiting card of Kazakhstan. It is a must visit. Hiking, fresh air, natural gifts of nature and simply fabulous views will not remain you indifferent.